How can we manage our capacity, eliminate
mental clutter
and
cultivate calm
in everyday living–three essential components of
life balance
?
Last episode we talked about the Vibrant Christian Living Framework—a Venn Diagram roadmap I've developed for helping you create that full life God calls us to in John 10:10.
Today's episode takes a closer look at the first circle on that diagram (Cultivating Life Balance) and offers tons of practical insight on how to manage your capacity, eliminate mental clutter and cultivate calm so you can have a happier, calmer, more balanced life.
We talked about life balance back in Episode 4, but today we're going to go a little deeper and talk not just about the four parts of self but also what I call the 3 Cs for managing life balance.
YOU'LL LEARN:
How to discover (and honor) your true capacity
Practical ways to eliminate mental, spiritual, emotional & physical clutter
How to cultivate calm using your 4 parts of self
Related Podcasts, Helpful Posts & Other Resources
More About the Vibrant Christian Living Framework:
The Vibrant Christian Living Framework consists of three main steps:
Cultivate Life Balance
Clarify Purpose and Mission
Create and Crush Life Goals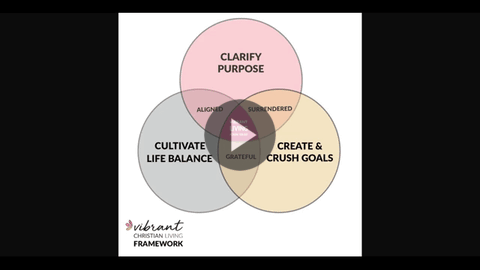 Be sure to listen to these other podcast episodes that explain the framework in depth and share practical tips on how you can use the Vibrant Christian Living Framework to discover your best life!
Create Your Plan for Life Balance
Wouldn't you love to be free from all those things that frustrate you and hold you back?
If you'd like to create a plan for life balance, and healthier and happier you, let's chat!
As a life coach, I love to help women:
Ditch the overwhelm and find a freer, happier life
Create a plan for life balance and calm
Clarify your purpose and create the life of your dreams
Using the Vibrant Christian Living Framework as a guide, let's work together to create your custom plan for helping you overcome the obstacles in your life and becoming all that God wants you to be!
I look forward to hearing from you!
Alicia Michelle is a Christian life coach, host of the Vibrant Christian Living Podcast, and founder of the VibrantChristianLiving.com community. Alicia is passionate about empowering women to discover their best selves by overcoming their obstacles and boldly following God's amazing plan for their lives. Alicia is also the creator of the 5Rs Bible Study™ Method, a simple plan for anyone to understand and apply biblical truth in under 10 minutes a day as part of a daily Bible time. She's written several Bible studies that use the 5Rs Bible Study™ Method to draw women and families closer to God. In addition, Alicia is a homeschool mom of four very vibrant children (ages 16 to 7), is married to her best friend and husband of 18 years, and loves their country life together.